Learn
exactly

how to make money with a Judgment Recovery Business and finally have the financial freedom you've always dreamed of!
A
Billion

Dollar Industry

Each and every day thousands of money judgments are being awarded in our civil courts in an ever-increasing tide of unpaid debt. But what you probably didn't know is that a staggering 79% of all these judgments are unpaid because the courts can't force the losing party to pay.

A money judgment entitles the winning party to use many powerful legal tools to collect the money through the court system. Wages and other income can be garnished, property can be taken and sold, bank accounts can be frozen and seized, driver's licenses can be suspended... these are just a few of the many tools in the enforcement toolbox. But the sad truth is most winners in court don't know how or where to begin.

Unfortunately, unless the judgment holder (the winner of the lawsuit) knows how to find the debtor's assets and use the court system to collect, there is little else they can do. The results of all these hard-won legal battles is astonishing... literally BILLIONS of dollars in civil debt, collecting interest - and dust - in someone's filling cabinet.
"Your program is Leaps and Bounds above anything else that I've ever purchased in the past 32 years of buying and wasting thousands of dollars on other programs.
Thank you for making my dreams come true with your judgment recovery training course!"
From Joseph Napoli
Click here to read more
great testimonials.
Looking for a legitimate way to earn
$8,000
every month from your home?


You've come to the right place.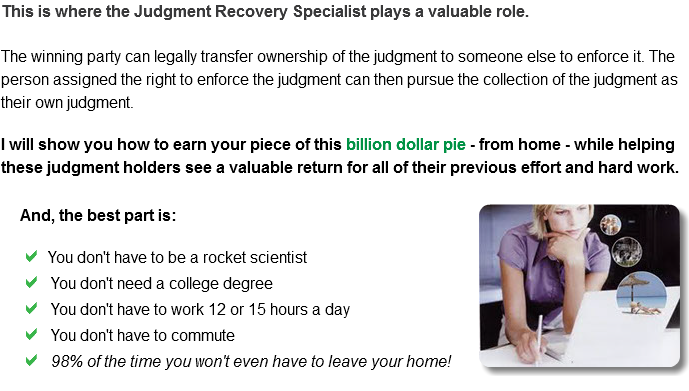 All you really need to do is give this business an honest try, follow the step-by-step guidelines I've developed for you, and you will know everything you need to earn a great income with a successful judgment recovery business.
I know a lot of people have jumped in to many home based business opportunities (including myself) hoping to find that special business that will allow you to prosper in your life. What happens is, you see one that looks good, so you go for it. Then, you see another one, and you go for that one too - and so on - until your plate is so full and you're spread so thin, you go crazy trying to work them all.
Don't get me wrong - if you're honestly happy with your life, making money and keeping up - that's great! I hope you continue to do well. But truthfully I think there a lot of good, ethical people out there spinning their wheels and not making any money and are worrying about how to pay the bills.
Most people are very tired of working hard to earn money and still not making ends meet. I believe the secret to a successful home based business is that you must get involved with a something that will fill a 'niche' - the type of business that will provide a much needed service in any community. Not just another 'get-rich-quick' scheme, but something that really works.
If you know in your heart that the above statements are true, and you're interested in learning more about a judgment recovery business, then I hope you'll take just a few more moments of your time to explore this site and learn about the vast amount of opportunity and prosperity available at your local court house.
Learn More About the Judgment Recovery Business
Judgment Recovery is one of the most legitimate, solid business opportunities available today. It's not multi-level marketing, network marketing or any other kind of 'get-rich-quick' scheme, as are so many of the opportunities we are bombarded with today.
Some of the judgment debtor's assets that can be seized include:Bank AccountsStocks and BondsReal EstateWagesRVs, Boats, MotorcyclesSecurity DepositsBusiness Income/EquipmentIncome from 3rd PartiesRental Income

And More!
This is a valuable, much needed service in any community. There is truly little, or no competition anywhere! Why? Because this is an unheard of service industry in its infancy - but soon it's going to explode!
Let's talk for a moment about why this is such a needed service. When a person takes a dispute to court and wins, he or she is awarded a judgment, usually for money. Unfortunately 80% of judgments awarded in court are never collected.
The winner of the judgment (the judgment creditor) can legally assign the judgment to someone else for enforcement - it's just a simple matter of paperwork. Civil judgments are assignable in all 50 states. The person assigned the right to collect the judgment can then pursue the collection of the judgment as if it were their own.
Judgments are valid for an average of ten years in most states, and they are typically renewable. After a couple of years have passed, the average person who has been unable to enforce their judgment will usually forget about it and go on with life. This is money they have essentially written off.
I will show you the most effective ways to contact these judgment holders, and how to get more of these judgments to collect than you can possibly handle.
When the judgment holder receives my proven solicitation letter from you letting them know that you can collect their judgment, without any up-front fees coming out of their pocket, they will be over the moon about the prospect of receiving money from the useless piece of paper they've been holding onto all these years. To them, 50% of something is better than 100% of nothing.
And no - I'm not exaggerating!
You can negotiate any percentage of the judgment to keep for yourself that you feel comfortable with, but most people have no problem with letting you keep half of what you collect for them. If you want to, you can even purchase these judgments up front for just pennies on the dollar!
I cover both of these methods in the training program I've designed for you.
Just take a look at these examples:
We're not talking about standard collection methods, here! A traditional collection agency will send dozens of ineffective, annoying collection letters that may result in a handful of successful collections. After that, they tend to let the debt fall by the wayside.
A judgment creditor has the legal right to seize bank accounts, garnish wages and other business and personal income, place liens or even foreclose on property, or seize personal property and force a sale. All of these procedures are carried out by filing simple forms with the court. You can file the documents by mail, if you wish, and many court houses will even accept filings by FAX or
electronically. You don't even have to contact the debtor directly, if you choose not to - all you have to do is occasionally send them legal documents through the mail. It couldn't be easier!
One of the greatest benefits about your own home-based judgment recovery business is the income, but let's get any unrealistic expectations out of the way. Obviously you wouldn't be here if you weren't looking for a way to make money, or improve your quality of life - that much is clear. But if you're looking for some kind of pie in the sky promise of riches and an elevation to "Lifestyles of the Rich and Famous" overnight, I'm sorry to inform you that this isn't it.
A judgment recovery business is definitely not a get-rich-quick scheme and I'm not going to try to lure you with any false promises, or by posing in front of my mansion and sports car and swearing this will be you in two weeks. If you're looking for easy money, you should probably look somewhere else, and I sincerely hope you find it.
So let's be reasonable. The truth is that any legitimate business requires hard work, research and plain old elbow grease. Judgment recovery is no exception. But if you're willing to invest the time and effort, a judgment recovery business can provide a decent and sustainable income of about $80,000 a year, for a very low cost investment.
While there are hundreds of ways to collect a judgment, there are just two basic ways to take assignment of them. Both methods transfer ownership from the judgment holder to the assignee (you). That's important because it allows you to collect the judgment on your own behalf. It's also worth noting that judgments accrue simple interest from day one, which means two to three years down the road they are worth significantly more than they were when first awarded.
Take a look at the two examples, above... The first method is to purchase the judgment with the agreement that you'll make payment to the original judgment holder when - or if - the judgment is collected, paying half of what you've collected minus any costs you may have incurred.
This is by far the most commonly used assignment method in our industry. If you are unable to collect the judgment (or only a portion of it), you're not on the hook for anything other than your time and some minor expense you incurred in an attempt to locate assets. Further, there's no 'expiration date' on an assignment. You can continued to check back every few months to see if anything has changed with the debtor's financial situation. You can also record a judgment lien so that if the debtor owns property, or acquires it in the future, your judgment lien will have to be paid before a there's a clear title.
The second commonly used method is to purchase the judgment outright, paying the judgment holder $0.05 to $0.10 on the dollar, up front. The obvious benefit to this is that your potential profit is much higher than it would be if you were just keeping half of what you collect. The only drawback is that you could end up throwing good money after bad, unless you pre-screen the case before purchase and only opt for those cases where you know assets are sufficient enough to satisfy the judgment.
Now that we've covered types of agreements, let's talk about some enforcement scenarios. There are more scenarios for collecting than there are fish in the sea - or any combination of them to ultimately get the job done - but here are some common ones, so you can get an idea about how you actually get from Point A to Point B.
Wage Garnishment:
In most states (but not all) you can garnish a judgment debtor's wages. The law typically allows you to intercept 25%. You'll receive payment every time the debtor is paid, which results in basically maintenance free residual income.
Voluntary Payment:
Much the same as a garnishment in regard to residual income, however, a debtor submits payments directly to you voluntarily.
Seizure of Bank Accounts:
The court will act on your direction to seize funds in checking, savings or even mutual fund accounts. Anything in the account(s) at the time the bank is notified must be frozen and then turned over.
Settlement:
As the legal judgment owner and creditor, you have the authority to accept a settlement in lieu of collecting the full judgment amount. This is very useful as a means of working with judgment debtors - particularly commercial/business debtors - toward a reasonable solution everyone can live with. You can even structure settlements that are half barter for goods or services - or all barter. The sky's the limit here.
Lien:
A judgment lien attaches to property and clouds the title until the judgment is paid.
Foreclosure:
While you would be completely within legal boundaries by foreclosing on property to satisfy a judgment, I wouldn't necessarily recommend this route just to satisfy a measly $5,000 debt (that's pretty cold-hearted). But if you're talking about a judgment against a business for a couple hundred thousand dollars, then - by all means - this might be the way to go!
I could go on with these scenarios all day, but there are just too many of them. Some other potential assets include business income or equipment, rental income, annuities, automobiles, recreational vehicles, boats, planes - I even know a gal who seized and sold a buffalo! I'm confident that you can clearly see how and why an income of $80,000 a year is average for one person operating full time.
Does that sound good to you? Great! Now let me give you details about how I will guide you, step-by-step, to financial independence with the professional Judgment Recovery Training Program I've designed for you!
Confessions of an Opportunity Junkie - CLICK HERE to Meet SJR's Founder
Learn from an Industry Veteran
I want to help you. After spending nearly two decades working in the judgment recovery "trenches," I am convinced judgment recovery is one of the most incredible and rewarding businesses around. Believe me - I've seen what's out there!
I've developed a training program that will equip you and teach you everything you need to know to get started in your own judgment recovery business. I've even gone a step further and thrown in free ongoing customer support for as long as you need it. We're not talking about just a book... It's a relationship. And not only a relationship with me and my company personally, but also SJR's very active membership network. I am very serious about your success!
To explore all of the fantastic benefits and features I've packed into this training program for you, scroll over the topics below for more detailed information.
"This is the first home-based business I have ever started that I actually enjoy. I am having a blast! If I continue at this pace, I will soon leave my job and do this full time.I am so excited because it has only been a month!" From Tonya L., in Texas Click here to read more
great testimonials.That's Sierra Judgment Recovery's Professional Training Program - virtually my successful judgment recovery business delivered directly into your hands, for you to model your own business on. Because you'll see it from the inside (not as an 'outsider'), you WILL be able to replicate everything I've done and continue to do.
You'll have these jealously guarded secrets revealed to you - I hold nothing back! There's nowhere else you're going to learn these insider tips that up until now, only the real pros use themselves. You'll get the best street smart education on how to enforce judgments available anywhere.
I've done all of the research and work to take the guesswork out of everything. You'll have all the letters I've used that are proven to generate limitless customers. All of the contracts and agreements are included. You'll have all the forms and contact resources it took years for me to develop. After you've read the course you will know exactly how to easily locate debtors and their assets.

And what's your investment for everything I've put together for you in this critically acclaimed, comprehensive Judgment Recovery Training Program?
Nothing. It won't cost you a single penny... because it's included free when you join the SJR Member Association.
Now this amazingly detailed, cutting edge training program is yours instantly when you join SJR's Member Association for one lifetime registration fee of only $165.
That's it.
I don't want any of the money you collect from judgments. I don't want any monthly or annual membership dues or fees. And I promise there is no 'catch' or any strings attached, or any other nasty surprises. There is no "other" more detailed training program to purchase later on - this training is complete in every way. Even the material updates are free.
This is for the whole enchilada - and not to be confused with the free Judgment Recovery Start-Up Guide. While the start-up guide has a ton of great information, it's still just a 50 page chapter-by-chapter summarized version of my full training program (you can get the free Start Up Guide by clicking here).
So what is $165 to you... a lot or a little? Well, for many it's about the same cost as a nice dinner out and a movie, but it might be a bit of a stretch for you, I don't know. But I do know this: there is no other reasonable way you can get set up in this remarkable business and earn thousands of dollars a month. To figure it all out on your own WILL cost you a lot more. And it will take a long time.
I really hope you'll get started today. I'll be guiding you every little step of the way in using my program and resources to quickly set yourself up in a very high-income business.
Are you ready to get started? Join us today and take your first step toward making 2021 the year your dreams of true financial freedom and independence become a reality.
If you still have some reservations or some questions left unanswered that are keeping you from comfortably making a decision, I certainly hope you won't hesitate to give my Customer Support Staff a try and contact us - we welcome your questions!
Click here to visit the Contact Us page to send your questions to my customer support staff. There are real, live human beings just waiting to answer your questions.
You can also see answers to questions we get get most often by visiting our Frequently Asked Questions page. Just click the button to your right.
SIERRA JUDGMENT RECOVERY
CONTACT
Hours of Operation: Monday through Friday; 8:00 am to 5:00 pm Eastern time. We are closed for all major holidays.
Blog: Visit SJR's Blog for articles and insight into the Judgment Recovery Industry. CLICK HERE
Copyright © 1998 - Present. All Rights Reserved